We had a great time at SugarCON this year, especially in the "App Throwdown" showcase competition.
During this competition, Sugar developers who have created best-in-class applications "throwdown" to show off their hard work. SugarCRM hand-selects a team of judges to pick a winner for each of five categories, known as the best-in-class winners.
We "threw down" in the competition for Best in Class Data, Information, & Analytics category with our BI solution, Informer – and we WON!
Check out our original video contest submission:

Informer pulls data from multiple sources, including Sugar, and allows users to create ad-hoc reports, analyze data on their own, and interact with dashboards. With a built in security framework and intuitive user interface, Sugar users can create cross-module reports using drag-and-drop, auto-complete and in-place editing. W-Systems partners with Entrinsik to offer Informer to customers who need a more powerful reporting engine than Sugar offers out-of-the-box.We had (maybe a bit too much) fun presenting at the App Throwdown during the conference with a Jeopardy-style presentation, complete with famous jeopardy music, category & question screens, and a signature Alex Trebek… beard?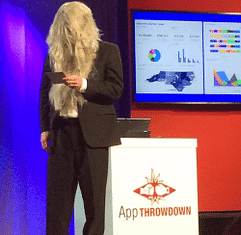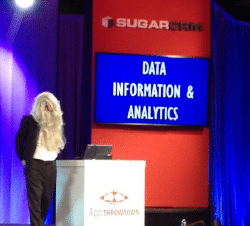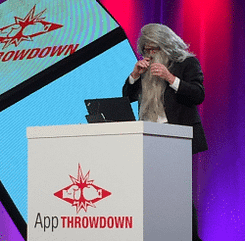 This look our Informer Solutions Director, Tad Buck, invented did make quite an impression. Check out the comments on Twitter! (search @Entrinsik or #AppThrowdown) We even won "Most Random Presentation."Long blonde wigs aside, Informer dazzled on its own and walked away with Best-in-Class for Data, Information, & Analytics.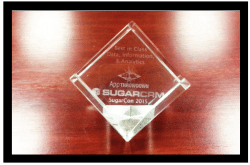 A huge thank you to  our business partner W-Systems, the great people at SugarCRM, all the participants in the App Throwdown, and our own Tad Buck for being a great sport! Read more about the App Throwdown on W-System's blog:  https://www.w-systems.com/blog/developers-app-throwdown-at-sugarcon-2015/    See why Informer helps you get the most out of your SugarCRM system: www.entrinsik.com/sugarcrm