Entrinsik has officially released the new Test Drive feature of our Informer software!
The new test drive allows visitors interested in experiencing Informer to access a free trial version of the software instantly on their own web browser. Within this trial version of Informer, an example report and interactive dashboard have been created for visitors to view and manipulate themselves in order to get a feel for Informer's basic capabilities and user-friendly interface.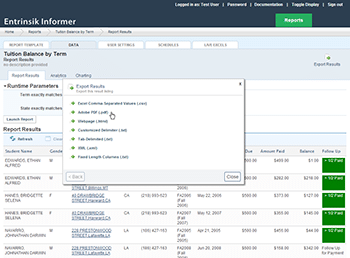 Test drive users will be able to see how Informer's intuitive web interface provides quick, easy access to ad-hoc reporting, self-service data analysis and interactive dashboarding capabilities, without obligation or installing a single component. Access is fast and easy; visitors just fill out a simple form and login information is sent directly to their inbox.
"We wanted a way for people to be able to easily experience Informer first-hand," said Sharon Shelton, VP of Marketing at Entrinsik. "We can tell people how easy it is to use and about its robust functionality, but being able to 'test drive' the software itself allows users to prove it to themselves."
The Informer Test Drive is free to try and there is no time limit for use. Interested parties can visit https://entrinsik.com/informer/request-a-demo to sign up for immediate access. The test drive is meant to show users the intuitive interface and basic capabilities of Informer. A full trial version is available for free for 30 days and can be accessed by emailing Entrinsik at sales@entrinsik.com.
Entrinsik Informer is recognized as being an innovative solution in data management, providing access to real-time data from multiple sources, in-depth analytic capabilities, and intuitive data visualizations, all accessible anytime, anywhere from an end-user friendly web-based interface.
About Entrinsik
Entrinsik Informer is an innovative, award-winning, agile reporting and business intelligence solution used by tens of thousands around the world. To get started on a free trial visit https://entrinsik.com/informer/request-a-demo. For additional details or a personalized DEMO, contact Sales at sales@entrinsik.com or call 888-703-0016.