*By Katie Liesmann, Epicom
If you are a SugarCRM admin or a power user, then you've most likely mastered creating custom reports for yourself and your colleagues. If you are wondering how to further boost reporting in SugarCRM, here are tips I've learned while working at W-Systems Corp, a SugarCRM solutions provider.
1.Clean Up Your Data
Your CRM data is the "raw" material needed to create meaningful reports. When analyzing data cleanliness, it is important to consider duplicate data, missing data, and incorrect data.
Duplicates need to be merged (rather than deleted) in order to maintain the data history since there might be variation between the two records. In Sugar, you can dedupe manually by using the "search for duplicates" option under the edit menu drop down. After clicking "find duplicates" you will be shown other search results which are similar matches and be given the option to merge them.
This can be a tedious process if you have many duplicates in your CRM, which is why Epicom has built several deduping tools for organizations using Sugar that will do mass merging of duplicate records.
The best resolution for missing or incorrect data is to compare your database against another database that is known for it's accuracy. Some well known ones are Hoovers, InsideView, or ZoomInfo. These companies offer data verification services in which they will audit your data for inaccuracies, and data enrichment services to fill in missing data or identify additional info on Leads,Contacts and Accounts in your system.
2. Increase Accountability for Entering Data
It's important to instill practices across your organization that maintain the integrity of your data. By keeping data clean, you can avoid more costly and time consuming clean up down the line. I've talked about how to clean up your data, so now I'll talk about preventing your data from getting stale and outdated. In order to maintain data integrity over time, we recommend proper training, required CRM fields, and increasing data visibility.

Proper training for new employees is important to not only educate your team on the importance of data quality, but also to inform them from day one on the information they should always enter into the CRM. Required fields prevent users from saving a record without first filling in all the information your team needs. You can create these in Sugar's admin tool, Studio. It's also important not to create too many required fields because this can discourage a rep from creating a record in the first place. We also recommend increasing data visibility across your organization. You can do this by having management pull up CRM data during team meetings, having other departments reference the CRM for data on a regular basis, or telling sales reps they only will be paid commission on deals that have been recorded in Sugar. If you expect your reps to be entering data in the CRM, you have to also create some sort of accountability system.
3. Merge All Your Data Sources

If you have multiple data sources or keep data in more than one database, you are most likely unable to create any report that combines data from those sources. For example, if you use a marketing automation system to manage leads, and a CRM to manage your customers, you wouldn't be able to report on conversion ratios from leads to customers. It's important to find a way to create meaningful reports that merge this data. One way to do that is with Entrinsik's Informer. Informer offers a reporting solution which integrates with Sugar to create easy self-service reporting on multiple data sources as well as interactive dashboards which users can drill down into. We often recommend Informer to companies with legacy databases, payroll systems, ERP systems, and other important databases.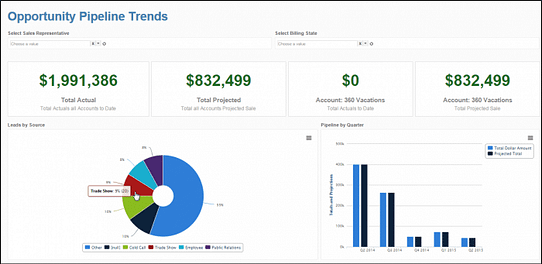 While Sugar's reporting engine has the basics to build ad-hoc reports, you may find that your organization needs some additional reporting power. If that's the case, we recommend you work with third parties such as Entrinsik to find an add-on reporting solution that fits your needs and integrates with Sugar. You can learn more about Entrinsik's Informer solution by reaching out to W-Systems Corp. with any questions you may have or reading a case study on The Linux Foundation, our customer who uses SugarCRM and Informer.